Gratuity Guide: How Much (and When!) to Tip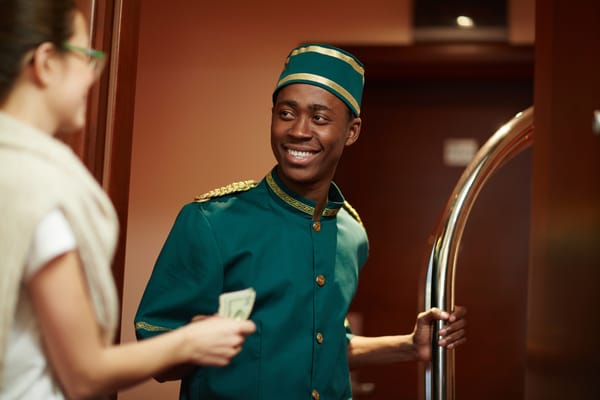 When someone does something nice for you, don't let that good deed go unnoticed. This is especially true when considering the service industry. If you want to leave a tip but don't know when it's appropriate (or how much to give!), check out this gratuity guide.
---
The service:
Dining out at a restaurant
The tip:
The fine print: When you go out to eat, chances are, you will want to tip your server for his or her service. While it's typically safe to tip anywhere from 15-20%, there are a few exceptions that mix things up. Buffets, for instance. If you don't have a regular server and only have someone come to the table to fill your water and provide silverware, the tip can be a bit lower than that of a traditional dining experience. Anywhere from 5-10% gratuity (pre-tax) is a safe amount. And if you have a favorite restaurant that you frequent, consider tipping above 20%. This is a good idea if you have a server that you know—especially if he or she has a tendency to bring you a delicious dessert on the house.
---
The service:
Cut or color at the hair salon
The tip:
The fine print: Always tip your hair stylist! Especially if you return to the same person month after month for your signature cut or color. He or she will remember both your style preferences and your generosity.
---
The service:
The tip:
The fine print: When you're on the go, you may rely on service workers to help you with your luggage. These people can range from airport shuttle drivers to hotel bellhops—and they all deserve some sort of gratuity for their service. When traveling, think of your bags in terms of dollar amounts. Tip $2 for the first bag, then $1 for every bag after that. So if a service worker helps you carry four bags, tip $5. It's a simple, foolproof system that works every time.
---
The service:
The tip:
The fine print:
Don't forget about housekeeping! When you're staying at a hotel, always make sure to tip the people who clean up after you. Each day you receive service, tip anywhere from $2-$5. You can even leave a nice thank you note if you feel so inclined. (This tip applies to all-inclusive resorts, too!)
---
The service:
The tip:
The fine print:
If you've chosen to valet your car at an event, remember to thank your valet with a tip for his or her service. Tip anywhere from $2-$5. Hint: If the weather is especially bad or it's an upscale event, it may be appropriate to tip on the higher end of that spectrum.
---
The Emily Post Institute. (N.D.). General Tipping Guide.
www.emilypost.com/advice/general-tipping-guide/

Larson, Heather. (2016, September 16). Tipping Guide—A Cheat Sheet On Tipping Dos and Donts.